The 2022 Online Money Machine
I had been thinking about creating a system that would enable some who is just starting on their internet marketing journey to build up a substantial monthly income in 6 to 12 months.
On the 16th of January 2022, this idea had transformed into reality. The 3 Step Wealth Builder online passive income builder system was launched.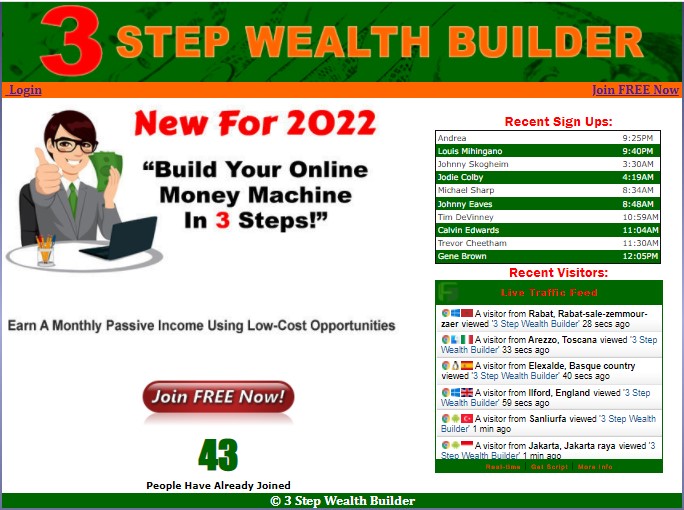 During the last few days of January 2022, the system did not receive much attention from online income builders. The message did not reach many people, I was also busy with creating this blog.
During the first few days of February 2022, the system has started to take off. A couple of people have show great interest in this system and are willing to take it to the masses.
Duplication has started to take root and the future of the 3 Step Wealth Builder system looks bright. It looks like the law of attraction has enable me to connect with like minded people to take this system to the masses and build online passive income for us all.
I think over 100 people will join the 3 Step Wealth Builder system by 1st of March 2022. Not everyone that joins the system will understand the marketing power and income potential offered by this simple system. Out of evey100 people that join, only 10 will take it seriously and create duplication.
Many people are attracted to internet marketing, most of the think that they can become super wealthy with little work involved. The truth is that it takes a lot of effort in the beginning, you will not see immediate results. A select few weather the storm and reach the point where momentum starts to pick up. Once momentum starts to build up, the money starts to flow in, in increasing amount every month!
Click Here to get started with the 3 Step Wealth Builder system and find out how you can build up a monthly passive income using the internet.
If you can refer 5 people to the system who are serious about building a monthly passive income online, duplication and your income will start to grow. You may have to refer unto 50 people to find 5 people who are willing to take this seriously.
Most people are looking for something for nothing, the sad reality is that it does not exist. You need to put in the time and effort to build up a monthly passive income. Once the income starts to flow in, it will continue to do so with little effort from you.
Let's see how long it take to get 10,000 people to join the 3 Step Wealth Builder system?
Can we reach this target by 1st of January 2024 (23 months)?
I have strong belief in this system and know that I will attract many like minded people to take the system and our monthly passive income to the next level.
As an internet marketer, the first few months may be a struggle. You will be putting in a lot of effort without seeing any results. This is expected as you are laying down and picking up the skills necessary to move you to the next level.
The 3 Step Wealth Builder system can be used to generate cashflow to enable you to pursue other online income ventures.