Site Not Ready For Adsense
After submitting this blog for adsense, I got an email back from google stating that it is not ready to display ads yet. At first I was a little surprised as the content of the site was unique and relevant to my chosen niche. All the posts were written by me and provide real value to the person ready them.
I started to look at why this blog was not approved for adsense. The problems is not the content it is due to the traffic coming into the blog. There are not enough visitors to the blog and the posts have not been ranked for many keywords or key phrases.
28 Days Traffic By Channels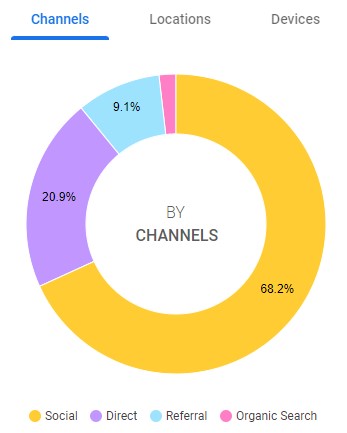 Only 1.8% of the traffic was coming from organic search, 9.1% was coming from referrals and 68.2% was from social media.
14 Days Traffic By Channel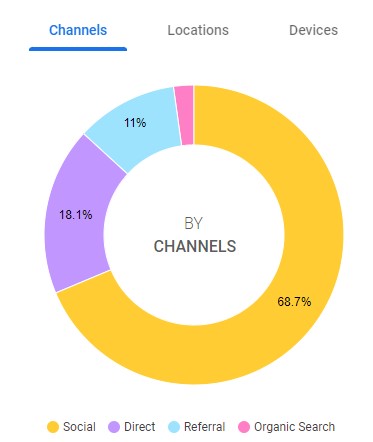 Only 2.2% of the traffic was coming from organic search, 18.1% was coming from referrals and 68.7% was from social media.
7 Days Traffic By Channel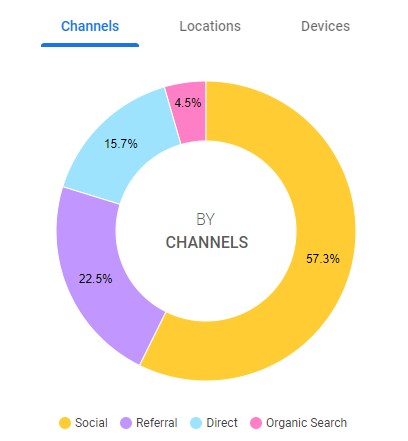 Only 4.5% of the traffic was coming from organic search, 22.5% was coming from referrals and 57.3% was from social media.
The Organic Search Traffic Percentage Is Increasing
The organic search traffic has moved from 1.8% to 4.5%, this looks promising as the blog posts start to get indexed by search engines. The referral traffic has moved from 9.1% to 22.5%, indicating that visitors are also coming in from other sources (not just google).
Social media traffic has decreases from 68.2% to 57.3%, this is good as I want most of my traffic coming from google and other search engines.
Actual traffic coming into the blog has also decreased as I am not marketing the posts or blog as much using social media. A larger portion of the traffic is coming from google and also other external sources.
The email from google stating that my blog is not ready for adsense actually makes sense! There is good content on the blog, the post actually provide value and are unique and written by a real person (me).
Getting Indexed By Google
It will take some time for the posts to get indexed by google and ranked for the relevant keywords and key phrases. I will continue writing blog posts to update my progress and report on what I am doing to build my online passive income streams.
I will submit my blog for approval for adsense once I have published over 100 posts. This should happen by the 1st of May 2022. Once I have reached 100 posts, there should me a substantial amount of traffic coming in from searches on google.
I don't consider this blog not getting approved for adsense as a failure, I see it as a challenge for me in the path to reaching my goal of earning over $5,000 monthly in passive income using the internet.
I know that if I continue writing posts that are interesting, inspiration and actually provide value to the reader, this blog will eventually get accepted to display adsense ads.
The posts that I have written before getting accepted by adsense will still earn me revenue as ads will be show on them after getting accepted by adsense. These blog posts will generate revenue in the future, the results will be delayed.
Getting accepted by adsense is a lot harder now than in the past. You cannot just create a blog and post 10 articles and get accepted by adsense. Your blog posts have to rank highly for keywords and key phrases and bring in a steady flow of traffic from search engines.
Working On Getting Accepted By Adsense
I am now working on getting accepted by adsense by 1st of May 2022. I am writing this post on the 12th of February 2022. I have 78 days to get the posts indexed by google and bring in a steady flow of visitors to this blog.
Even after getting accepted by adsense, the revenue may not be that significant. I may need to analyse the posts and modify my keyword and key phrase strategy. I am currently writing post without paying much attention to keywords and key phrases.
Google should start to pick up the most prevalent keywords and key phrases used in the post to work out the niche and also to rank the posts in searches.
I know that there are a number of people already reading my post for updates on the journey that I have embarked on. I hope that my posts inspire you to create your own streams of passive income.
This blogging journey has enabled me to remain focused on my goals and also clarify my thoughts. At first I used to think what other people would think about my blog.
What Would The People That Know Me Think Of Me After Reading My Blog Posts?
After giving this a little thought, I have come to accept that I don't really care what the people close to me think. If they are ready to support me, I will appreciate it greatly. If they want to make fun or ridicule me, this will still drive visitors to my blog! It's a win, win situation for me and a loss for the haters!