Poker Joker – The Experimental T-Shirt Design
I decided to create a random T-Shirt design with the words "POKER JOKER", based loosely on the Poker Face and Joker Character.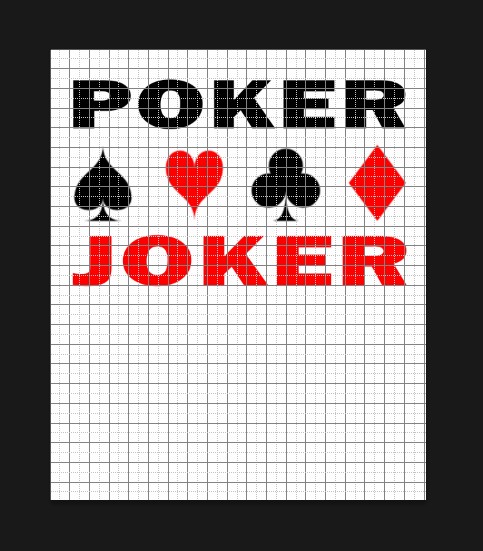 I designed the T-Shirt with POKER in black letters and JOKER in red letters, I also placed playing card suits between the words.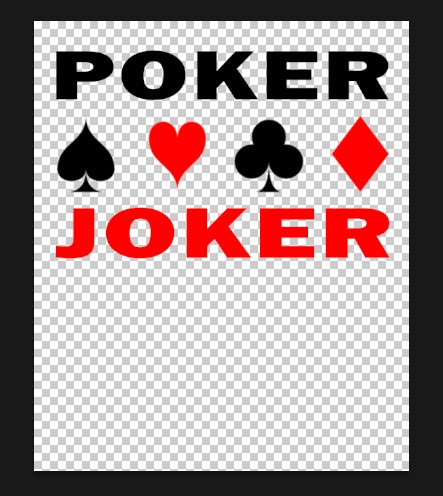 After aligning the words and the card suit images, I removed the background and saved the image as a .png file.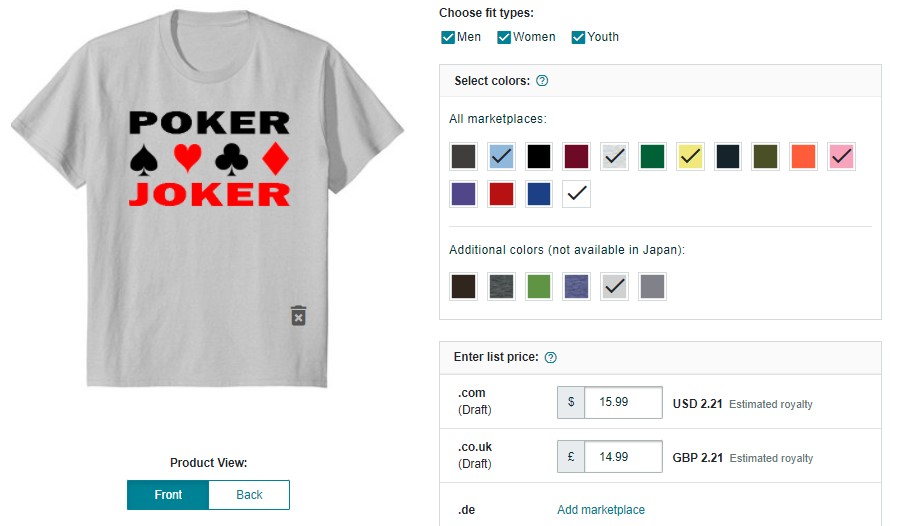 I used the image to create T-Shirts on Merch by Amazon. I designed one for Amazon.com and one for Amazon.co.uk. I chose light coloured T-Shirts as the the word "POKER" was in black and the Clubs and Spades suits logo were in black too.
I priced the T-Shirt on Amazon.com at $15.99, which will generate a commission of $2.21. I priced the T-Shirt on Amazon.co.uk at £14.99, which will generate a commission of £2.21.
I am selling the T-Shirts at these low prices to generate more sales. These are not designer T-Shirts, so a large number need to get sold to earn reasonable commissions.
My goal is to generate a large number of sales at lower costs to commissions and move up the Tier levels.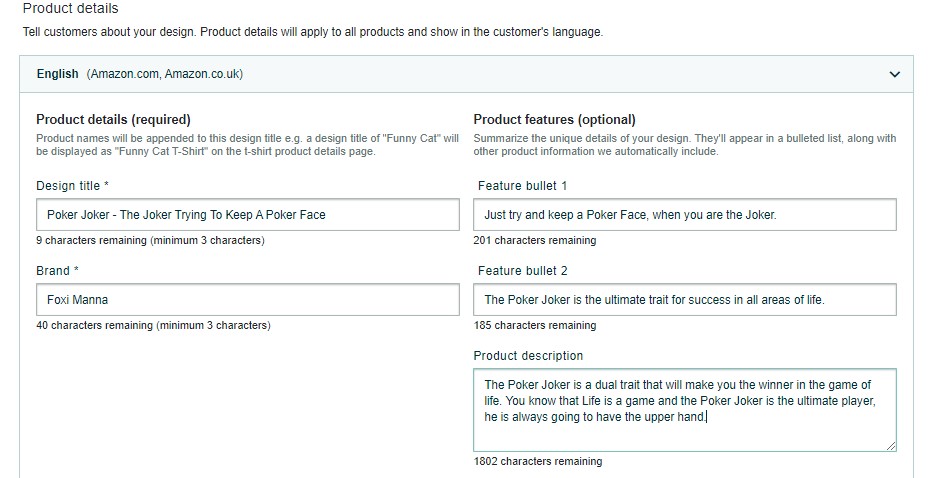 I added a title for the T-Shirts and placed them under my Foxi Manna brand. I also added feature bullet points to let people who a bit about why I designed the T-Shirts. I also added a product description to add to the T-Shirt design story.
I submitted the T-Shirts for processing and waited for the results. I everything was right and no trademarks were infringed, they should be accepted and go live on Amazon.com and Amazon.co.uk soon.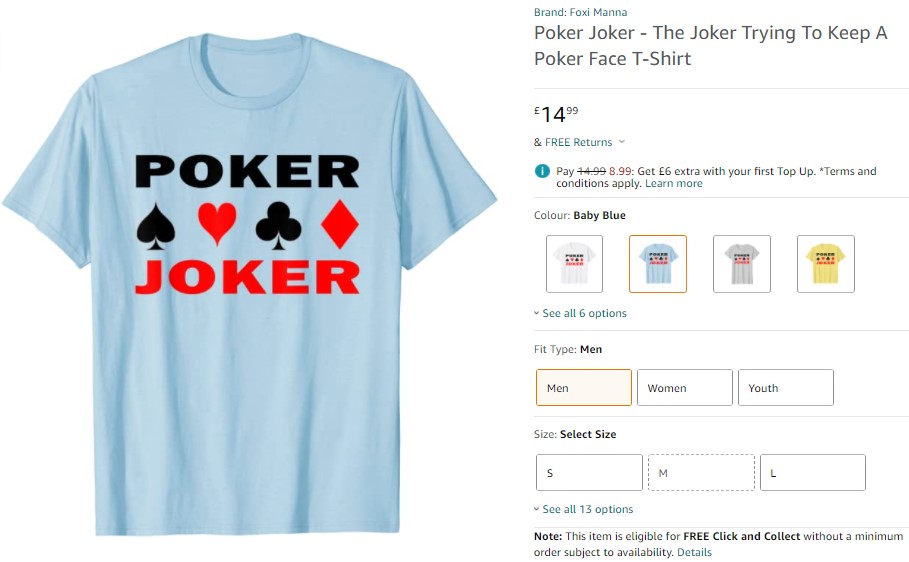 The design was processed without any problems and the T-Shirts are now live on Amazon.com and Amazon.co.uk
Here is the link for the T-Shirt on Amazon.com:
Here is the link for the T-Shirt on Amazon.co.uk:
I don't know how many of these T-Shirts will sell. I will just have to wait and see. It's a numbers game, the more T-Shirt designs you have listed the more chances you have of generating sales.
I have another 78 more slots left, so I will be able to upload 78 more designs. I will continue uploading more designs and deleting designs that are not selling.
Let's see If I am able to upload 100 designs by 31st December 2022. It will be hard work, as I am also working a job that takes up most of my time.
I am using my spare-time, every little that I have to work on my dream of earning enough passive income to enable me to quit my current employment.
This blog will enable me to stay focused on my goal by posting updates on the progress that I am making and it will also help me to remain accountable.
I will be able to see what's working and what's not. I will start posting monthly income updates, starting on the first week of February 2022, I will post my online earnings from January 2022. This will include any earnings generated from Affiliate Marketing, Print On Demand and AdSense Earnings.
Earnings from investments in stocks and cryptocurrencies will not be disclosed in the monthly income reports.
Let's see if I can take my January 2022 income report to display a total of over $50.
I have just started to get serious about building up a monthly passive income using the internet.
How long is it going to take me to reach my target of $5,000 monthly?
Only time and effort can determine the answer to the above question.