You need to build your own email list of targeted prospects to enable you to make money online. The money is definitely in the list, and you need to master this.
Building Your Own Email List Is Very Important
Building your own email list is one of the keys to creating passive income using the internet. The more people from the make money online/home business niche you get onto your email list, the more potential you will have of building a substantial income using the internet.
Most people make the mistake of promoting the lead capture page offered by the online income opportunity they join. This is not really efficient, as you don't get to interact with these leads in the future. By doing this, you will in fact be building the company email list, not your own email list.
You need to create your own list and brand yourself by sending out messages to the leads on your list. It does not matter if they don't join the opportunity that you are promoting straight away, they may decide to join after receiving more information from your subsequent email follow-ups.
If they are not on your list, you will not be able to send them custom created follow-ups. The late internet marketer, Corey Rudl's email marketing theory suggests that it takes 7 emails to inspire a subscriber to join your opportunity or buy your product/service. This theory has gained significant popularity amongst the internet marketers.
Even if the prospect on your list does not join your the opportunity you are promoting after 7 emails, they may join or buy something that you promote in the future.
Get Your Autoresponder
You can build your own email list by using an autoresponder. This is a program that enables you to create a landing page or subscription form to capture leads and send them automated follow up emails, and also email broadcasts.
The autoresponder program that I am using is GetResponse. This is a simple to use autoresponder that is used by many internet marketers worldwide.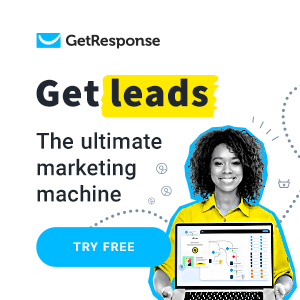 You can get a 30 day free trial to test out the autoresponder and other marketing tools offered by GetResponse. You upgrade once your email list starts to grow.
In this step you need to get your own autoresponder. At this stage, you will not know what messages to send out or how to set up your lead capture page. This information will come in the subsequent steps.
Some online income programs allow you to send the prospects from their lead capture to your own autoresponder, but I don't recommend this. I was making this costly mistake previously.
Your goal is to brand yourself as a leader in the online passive income building niche. You need to promote yourself by getting people to join your email list.
A large number of people will be promoting the lead capture pages provided by the online income opportunity that you join, you do not want to be competing with the crowd. You need to take an unique approach by promoting your own lead capture page to brand yourself.
Once prospects join your email list, you will have the opportunity to send them follow up message to promote the opportunity lead capture pages provided by the companies.
For now get your own autoresponder, I recommend GetResponse, as this is the one that I am also using. You can also use the affiliate program provide by GetResponse to earn some additional revenue to help fund your marketing.
This is Step 3 of the "Online Passive Income System". You will need to take time to carry out the exercises and actions outlined in all of the 12 steps to build up your online passive income streams.
"I may earn commissions as an affiliate from sponsored links within this post"