March 2022 – Online Income Report
In this post I will share my online income for March 2022. During the first couple of months the traffic to this blog started to spike and now it has settled down. I thought that I could get it monetized using Adsense, but the blog got rejected due to insufficient traffic.
I have been building up the content continuously during March 2022. I have not been doing any affiliate promotions outside of this blog.
---
Merch by Amazon – March 2022 Income Report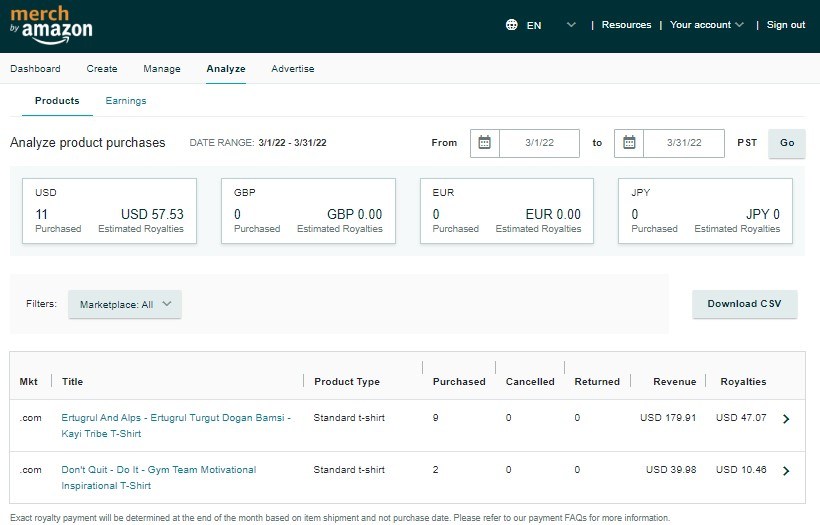 I managed to sell 11 T-Shirts in March 2022. The commission earned from 11 T-Shirt sales was $57.53. This was all passive earnings from work that I had done previously.
Total Earned $57.53
---
Amazon Associates – March 2022 Income Report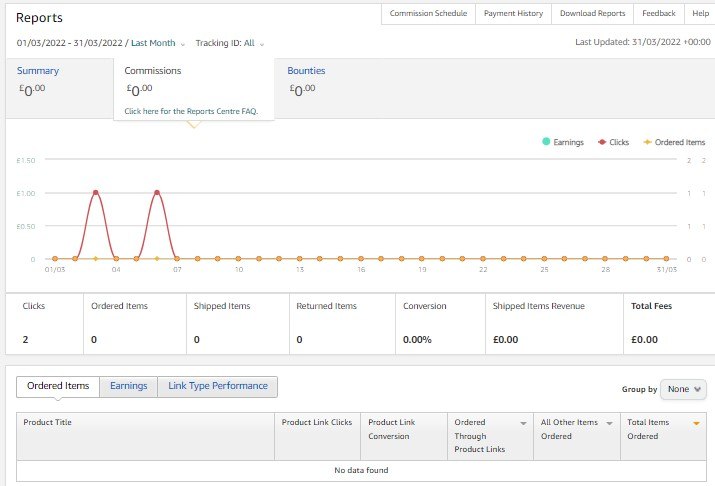 In March 2022, there were 2 clicks on my Amazon links, 0 items were ordered (0% conversion rate). Total shipped items revenue was £0.00 earning me a commission of £0.00.
£0.00 GBP is $0.00 USD. I earned nothing from the Amazon associates programs as I was busy working on this blog. Once this blog is earning me over $5,000 monthly in passive income, I may look at setting up niche blogs to promote products from Amazon.
Total Earned $0.00
---
Earnings From Adsense In March 2022
I don't have adsense running on this blog, as there is not sufficient traffic to get approved. I have placed Adsense on an advertising site that I set up a couple of months ago, DigitalWealthBuilder.com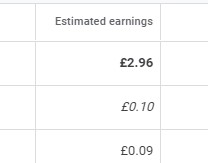 This site has earned me £2.96 GBP in Adsense revenue. This works out to approximately $3.89 USD.
Total Earned $3.89
---
Total earnings for March 2022 = $57.53 + $3.89 = $61.42
The earning have gone down compared to the previous months earning of $82.50. I had hoped to get approved for Adsense, but the traffic was not high enough.
My print-on-demand business on Merch by Amazon has generated commissions of $57.53 without me having to do anything in March 2022, this has been purely passive.
Merch by Amazon has been paying me commissions month after month, for the work that I done many months ago. I may need to focus on this a little more as the warmer weather starts to set in. I am selling T-Shirts via Merch by Amazon.
I have moved my blog over to the hosting provided by Wealthy Affiliate. This blog is now running on super fast amazon servers. I am going through the blogging training at Wealthy Affiliate and also continuing with my blogging on this site.
I started this blogging journey on the 25th of January 2022, it has been just over 2 months now. I know it will take a minimum of 9 months to start seeing monetary results.
Like I said, I will continue posting my monthly income updates, even if the earnings are $0.00. I want you to see what is working and what is not.
I don't want to just show you the good stuff, like on Social Media! On this blog you will see both the good and the bad.
I will continue posting monthly income updates until I reach my goal of earning over $5,000 monthly. I have set a time limit of 24 months, so far 2 months have passed. I have 22 months left to achieve this goal.
Most people show the monthly earning of over $10,000, without revealing the actual work involved in getting to that level.
If you are interested in building a monthly passive income using blogging, get out of the get rich quick mindset. It will take for anywhere from 12 months to 36 months to establish a substantial monthly income.
The time frame will depend on the work you are willing to put in and also the number of hours you can put in every week.
I am putting in a minimum of 25 hours weekly on my blogging and training. I am making a big sacrifice as I am currently working 12 hour shifts as a corporate security officer. It is difficult to find 25 hours a week with this busy time schedule, but I have decided to do it.
If I don't put in the time and effort now, I will still be doing the same thing after 24 months. I want to get out of the trading time for money trap. The money earned from my online activities may not look that impressive at the beginning, but it will start to go up exponentially after 9 months.
I know that the hard work that I am putting in will start to produce the results from September 2022 onwards. This blogging business works on a delayed gratification model.
The bloggers who reach the stage of earning a full-time income online possess the quality of persistence and have strong belief in themselves.
If you have ever considered taking up blogging to establish an online income stream, you can start off by taking the FREE training offered at Wealthy Affiliate.
Continue following the updates on my blog, where I reveal my struggles and my achievements. I know that I will eventually reach my goal of earning over $5,000 monthly from blogging. Every post that I publish is getting me closer to my goal.
I have a post on this blog titled When Is My Blog Going To Make Money? In this post I have outlined my understanding of the blog monetization process.
If we break down my March 2022 earnings of $61.42 by the number of hours in March 2022 (100 hours) that I have put into establishing my online business we get:
$61.42 / 100 hours = $0.61 per hour
Let's see how long it takes to get this figure to over $1.00 per hour!
I am not currently able to see the money from my blogging, as it is being accumulated to build up the foundations of my blogging business.
It is like building a block of flats, there is a lot of initial effort and expense involved. Once the flats are complete and rented out, money starts to flow in and the initial effort gets compensated.
I know a lot of my haters will gossip about my $61.42 monthly online earnings. I am perfectly fine with that, as it will give me more publicity!
If you don't have some haters, you must be doing something wrong! Once the money starts to flow in, the haters will become loyal followers!
Love, Hate, Wealth, Poverty, Happiness, Sadness…. It's all part of life…. we have the choice to experience whatever we want.
Just for future reference, I am writing this post on the 1st of April 2022 and it's snowing outside in Chigwell, Essex, England. I know it's the first of April, but this is no April Fools!
March 2022 Online Income = $61.42
---
This post may contain affiliate links, which means I may receive a small commission at no extra cost to you. I only share products and services that may offer you real value. Disclosure here.