January 2022 – Online Income Report
As promised, I am sharing my online income report for January 2022. I started on my goal of earning over $5,000 monthly in passive income using the internet on the 25th of January 2022.
I set up the skeleton structure of this blog, it has slowly started to take on bodily form. I will post my online income reports until I am earning over $5,000 monthly.
The income reports for the first few months may not look that healthy, as this will be the time for the blog and income streams to get established. I will post the reports, even if I earned $0.00 in the month concerned.
Let's get started on the online income reports for January 2022.
Merch by Amazon – January 2022 Income Report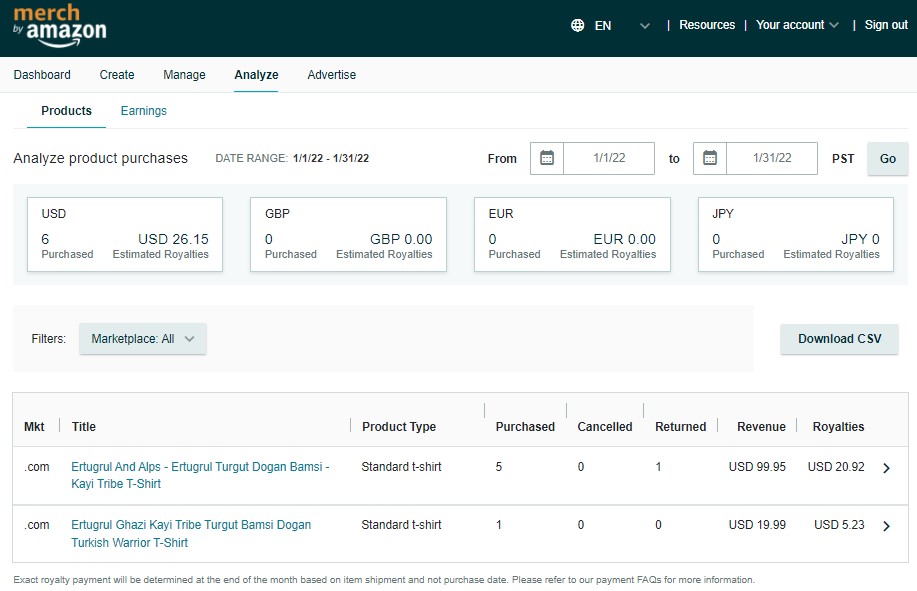 I managed to sell 6 T-Shirts in January 2022, there was I return. The commission earned from 5 T-Shirt sales was $26.15
Total Earned $26.15
Amazon Associates – January 2022 Income Report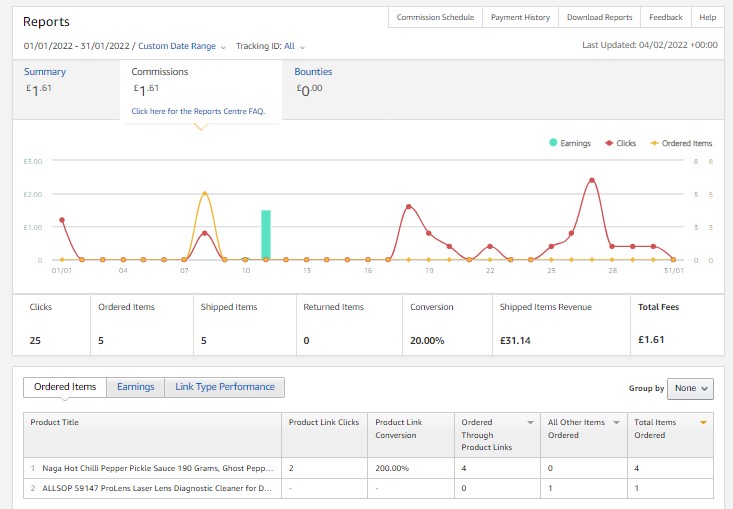 In January 2022, there were 25 clicks on my Amazon links, 5 items were ordered (20% conversion rate). Total shipped items revenue was £31.41 earning me a commission of £1.61.
As I am going to give the monthly income report in USD ($), I will convert £1.61 to USD.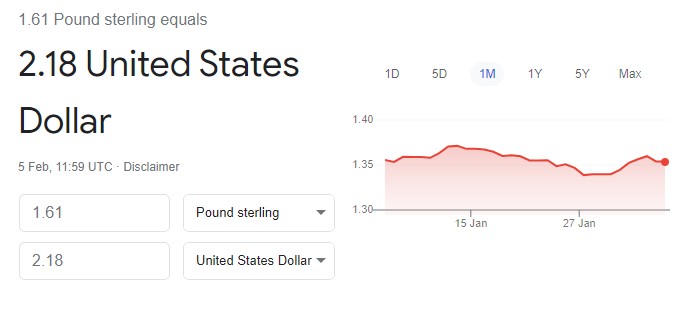 The conversion results in $2.18 USD.
Total Earned $2.18
I have not really started recommending many products or services as an affiliate yet. The only incomes generated were from Merch by Amazon and Amazon Associates.
In the coming months I will start recommending some products and services as an affiliate. This should start to build up my earnings.
Earning advertising revenue from Google AdSense may take some time, as the traffic to the blog will need to pick up significantly.
I am grateful that there are some earnings, proving that it is possible to earn money using the internet. I will have to scale things up to boost the earnings.
I will start uploading more T-Shirt designs, sales should start to pick up as the warm weather start to pick up. I will also start recommending more products from Amazon to boost the commissions.
My online income from January 2022 is $26.15 + $2.18 = $28.33
$5,000 – $28.33 = $4,971.67
I will need to earn $4,971.67 more to reach by goal of earning $5,000 monthly online.
Hopefully the January 2024 online income report should show over $5,000 in earnings.
This is month 1 of 24 to reach my goal of $5,000 monthly in online passive income. The first few months will not show much passive income, most of it is going to be in the form of active income as I put in the work.
I am pleased with this figure of $28.33 as I have just got started and still working thing out. It will take me approximately 6 months to get to a reasonable level in marketing skills and blogging proficiency.
I know some people will think that it has been a waste of time once they see the monthly earning of $28.33. It has taken me a lot of time and effort to get this blog started.
Most conventional businesses cost thousands of dollars to start up and don't see a profit in the first 2 to 3 years. My cost is minimal, just the domain name, hosting and a few marketing tools. My monthly costs will not get me into debt.
I will be able to fund my online income building venture for 24 months without incurring and debt. The figure of $28.33 is not going to put me off, in fact it is encouraging me to take more action!
Blogging and building passive income online is not for the person that is driven by an instant gratification mindset. In this venture, the results are slow at the start and will start to build up progressively over time.
January 2022 Online Income = $28.33