It Works! – How To Make Your Dreams Come True
During the past two years, my life had taken a down turn, it started to accelerate towards chaos and depression. I had plans for the future, the pandemic was not part of my plans.
Covid-19 had made sure my plans were infected and wiped out like the plans of millions of other people worldwide. I could not see a way out of the rut that I was left in as a result of the lock downs. I had transformed from an optimist to a pessimist within 24 months!
After doing a lot of searching for a way out of the mess that I had got myself into, I started to look at finding answers from within. I had to acknowledged that I was responsible for the mess that I was in.
If I did not take responsibility for the mess that I was in, I would not be able to resolve it. I got out of the habit of blaming others and society for my problems.
By chance, synchronicity or luck… whatever you may want to call it, I happened to come across I small book that was inspired me to take action towards creating the lifestyle in truly desire.
This little book is called "IT WORKS!" – The Famous Little Red Book That Makes Your Dreams Come True…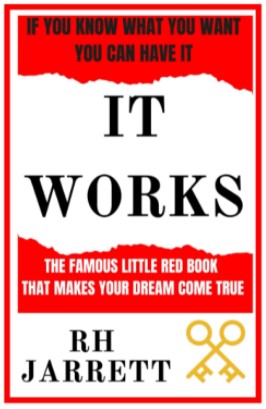 This little book is under 50 pages, and can be read in under 30 minutes. The instructions outlined within this book are easy to understand and implement.
I started reading this book during the 2nd week of January 2022, I can already feel the optimism pick up within me and there is a force driving me towards making massive changes in my life.
I will outline briefly what I have learned from this little book:
You need to know exactly what you want.
You need to stay focused on what you want.
You need to take action to make it happen.
There are detailed instructions on how to determine what you truly want in your life. There are instructions on how to stay focused on the things you desire in your life.
The actions you need to take cannot be outlined in the book, as everyone wants different things in their life. Once you know what you want and stay focused to them, you will be inspired to take action.
You will be able to feel if the actions you are taking are right, as you will be inspired to take the necessary actions. You will feel good working on the actions as your mind will stay focused on the results.
If you would like to make changes in your life, you can order this book and also 2 x lined A5 notebooks/journals.
Order from Amazon.com:
Order from Amazon.co.uk:
Order from Amazon.ca:
Order from Amazon.com.au:
It Works: The Famous Little Red Book that Makes your Dream Come True, Original Classic Edition
2 Pack Classic Ruled Notebooks/Journals – Premium Thick Paper Faux Leather Writing Notebook, Black, Hard Cover, Large, Lined (5 x 8.25)
If you truly desire changes in your life, you will need to put in the work. You will need to work on your mindset and get focused on your dreams again.
The pandemic has shattered many peoples dreams, but the super wealthy have increased their net worth. The multi-millionaires and billionaires across the world think differently from the masses. If you want to increase your net worth, you will need to transform your mindset.
Once you start following your dreams, there will be many people trying to stop you. Some of them may be intentional, others may be saying things that may hurt your feelings.
You will need to develop a bullet proof shield around you, the words and advice that is not going to help you towards achieving your dreams will need to be blocked off.
Most of the time, the extreme negative advice and ridicule will come from friends and family. If you are truly focused on your goals, this advice will just bounce back, before it sinks into your subconscious mind.
It is worth avoiding these negative advice offering individuals as it is hard to stop negativity impacting your subconscious mind. You may need to cut out some negative people from your life, you may need to eliminate or reduce the time you spend with them.
It is not going to be easy, if these are your close friends or family… but it will depend on the level of desire you have in wanting to transform your life.