I Have Just Created My YouTube Channel
On the 7th of February 2022, I have create by YouTube channel. Establishing the this blog took a lot of time, but it is finally up and running. The YouTube channel has just been created and it will also be up and running shortly.
I have kept the header of the YouTube channel same as the blog header. These headers will change as the blog and YouTube channel start to get established.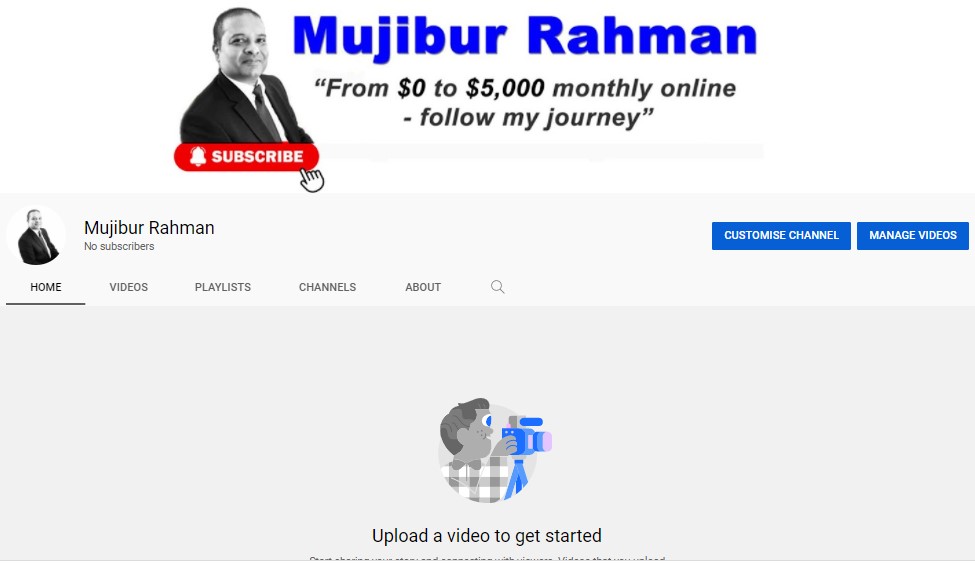 Currently there are no videos uploaded, as I am writing this post as I create the YouTube channel. I will start posting updates on the YouTube channel and also review online income building opportunities, products, services and tools.
Eventually the YouTube channel will be monetised using Google's AdSense program. This will take sometime, I am hoping to do this within 12 to 24 months. I will need to have over 1,000 subscribers and over 4,000 hours of watch time within a 365 days time period.
Currently this looks like a massive task, the path will start to get established once the videos start to populate the channel.
Today, I will continue with the nitty gritty of setting up the channel. Once the channel is set up fully, I will start working on my first video.
Please subscribe to my YouTube Channel and click on the bell icon to be notified when I upload new videos. I need your support at this crucial stage in getting my YouTube channel and blog established.
I think that I could have established the blog and get it to earning a passive income within 6 months. I could also establish the YouTube channel and get it monetized within 12 months. This is all very wishful thinking, but I have monthly expenses to deal with. I will need to continue with my current job and work on this part-time.
I may be working on this part-time but my heart and soul is in it full-time…. this is may passion, this is my dream!
It may take me approximately 12 to 24 months to start earning a substantial monthly income from my online ventures.
I am currently working on getting these blog posts picked up by Google and ranked. Once this is done, I should see a steady flow of traffic to the blog and I will be able to monetize it using Google's AdSense program.
I will also place a link to this blog in the description of my YouTube videos to create another traffic source. I am just working on things on the fly, there is little time to plan and structure my blog posts.
My blog posts are your window into my life as a blogger. Someone who is trying to get established as a blogger. I will become established as a blogger once this blog starts to generate over $5,000 in monthly income.
My blog posts reveal the struggle, the mistakes and also the small successes that start to build up towards creating the freedom that I am looking for.
I don't know how many people read my blog posts, but as long as a few are doing so, I will continue posting updates. It may take over 1,000 blog posts to get me ranked on Google to establish a passive source of traffic. I will continue posting updates until the posts get ranked, if you are reading this post by following a search link, please leave a comment below in the comments section.
Subscribe to my YouTube Channel and follow my updates. My journey towards creating a substantial monthly passive income using the internet has just started.
In the past, I did not take it seriously enough as I had too many bridges ready to take me back to my comfort-zone. The global pandemic has burned these bridges and put me in a pursue or perish situation. I have chosen to accept the challenge and opportunity offered by life, I am ready to pursue my dream of establishing a monthly passive income using the internet.
Over the past month, my mindset has started to transform. I have decided to stay away from idle chat and gossip. I am concerned about my future and others who are seeking a similar future.
There are many people ready to make fun of and ridicule the path I have chosen. The small number who are highly successful will support me, as my success does not affect them.
It is human nature to make fun of some who is trying to do something that you do not understand. The results from my online income streams may not be significant now, but things will only improve.
I have decided to make it my mission to learn all about blogging, YouTube monetization, affiliate marketing and advertising revenue generation. There are many things to learn and I know it will take time and effort, but I have decided to immerse myself in this knowledge to pick up the skills require to become successful.
My blog posts are within 500 to 1,000 words in length, as I don't have the time to write full article of over 2,000 words. My goal is to update you on what I am currently doing and hopefully provide some value in the form of inspiration to take action on your dream.
I am writing posts as I am learning and implementing the tools and techniques to enable me to create a monthly passive income using the internet. It all started with a dream, and slowly it will become my reality.
So far, I have created this blog and started posting updates on it. I have now created my YouTube Channel and will start to upload videos soon. I am in the process of getting this blog monetized using Google AdSense. This may take some time, but it is in the process.
I am grateful and really happy with what I have achieved so far, considering the little amount of spare time I have. I have devoted 80% of my spare-time into transforming my online passive income dream into reality. I am thinking about this venture 24/7, this is the driving force that keeps me motivated daily.