How To Make Money With Affiliate Marketing
In this post I will go through the steps necessary to enable anyone to earn a substantial income from niche blogs monetized via affiliate marketing.
Step 1: Choose A Niche
A niche is a target audience that you will be marketing products and services to as an affiliate. Your chosen niche could be internet marketing, but this would be too broad. It would be better to narrow down the niche to something like affiliate marketing.
You can narrow it down further to only affiliate programs that pay a recurring commission. You can carry out keyword research to see if there are people performing searches within your selected niche.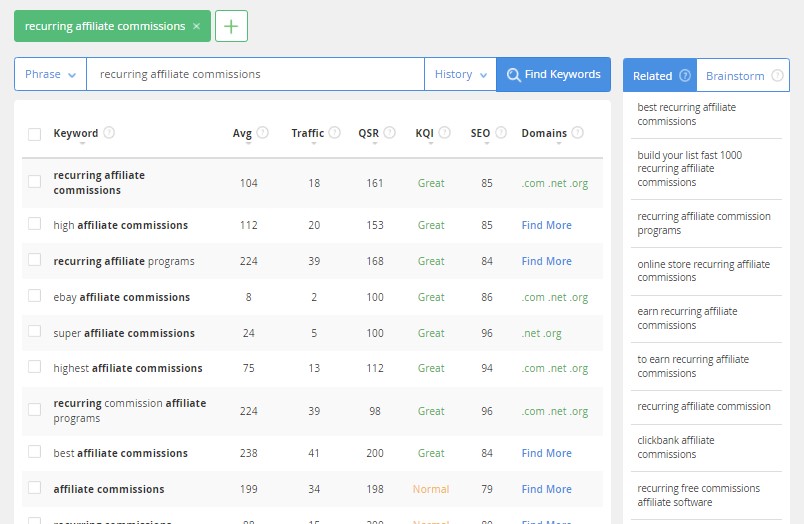 I use the Jaaxy keyword research tool to work out if a chosen niche is worth blogging about to earn money as an affiliate.
There has to be a large number of buyers of products and services within your selected niche. Your goal is to place products and services in front of people who are interested in them and are willing to buy them.
You are working as a marketer, connecting people with what they want and enjoy. You are not a sales person, there is no hard sale involved. You don't really have to persuade anyone to buy something that they don't actually want or need.
Step 2: Build A Blog
Once you have selected a niche, you will be ready to build your blog. You will need to set up a self-hosted WordPress blog to enable you to successfully monetize it with affiliate marketing.
Wealthy Affiliate offers the best solution for building a self-hosted WordPress blog. You get to host your blog on super fast amazon servers and also select from a large number of themes and plugins.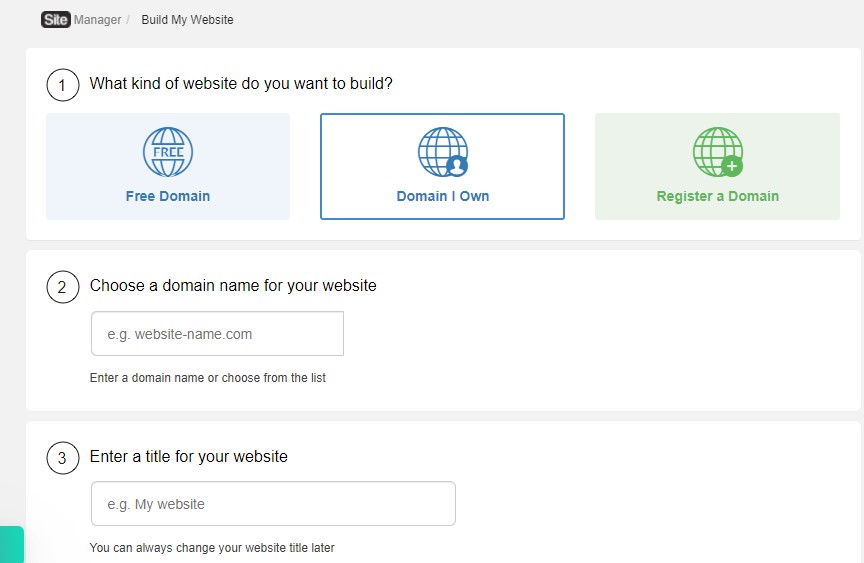 You can use the Site Manager tool to create your blog within minutes. Full instructions and support is provided. You can choose to register a new domain name or use an existing on, if you have already registered it.
The support and training provide at Wealth Affiliate is truly exceptional. The community is built up of people worldwide who are involved in creating niche affiliate blogs.
Step 3: Attract Visitors
Once your blog has been created, you will need to add post to it. You will need to write blog post related to your chosen niche. These posts will need to be optimized for keywords to enable them to get ranked on google.
You can get to use the Jaaxy tool for free as a Wealthy Affiliate paid member.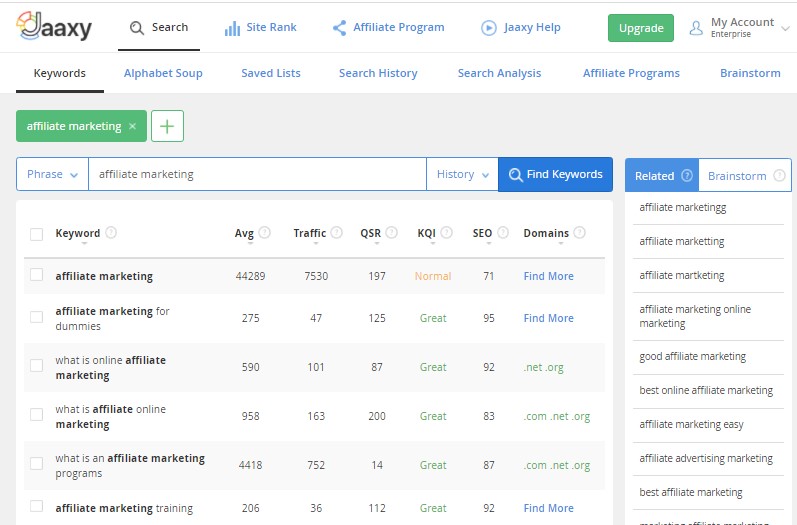 Check out the Jaaxy keyword tool below. This will enable you to write posts that will have a better chance of getting ranked higher on google.
Once your posts have been ranked for keywords on google, you will start to see visitors coming into your blog. When a search is carried out on google, the results are displayed as snippets of the articles/posts from various websites/blogs according to the keyword rankings.
If your post is ranked highly for a keyword, your blog snippet will be listed higher and have more chance of being clicked. If a click is made on your listed snippet, the user will taken to your actual blog post.
This is how traffic will come into your blog from google searches. Your goal is to get your keywords ranked highly by google so that your listing appears on the first page of the search result. This will enable you to get more traffic to your blog.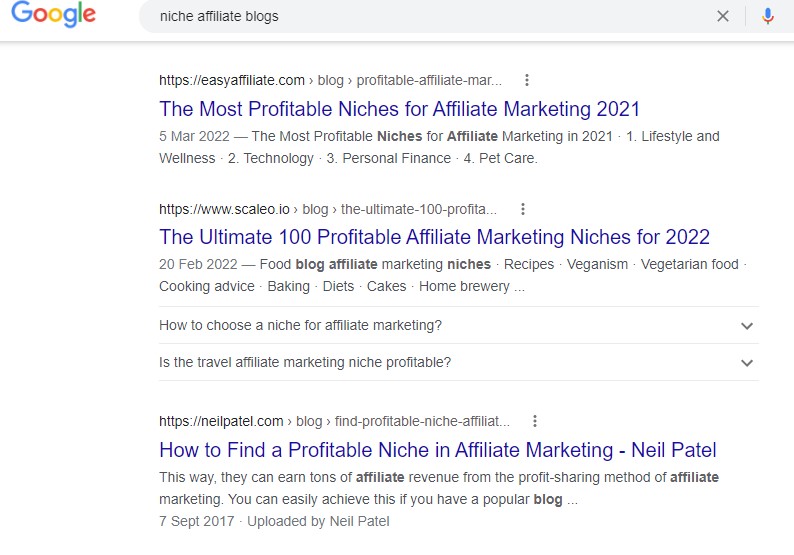 The above is an example of a search carried out on google for "niche affiliate blogs". The first three results displayed will get the most traffic to their actual blog posts which have been ranked by google.
You will need to optimize your blog posts to get ranked highly on google for your relevant keywords. Search Engine Optimization (SEO) is crucial to the success of your niche affiliate blog.
Step 4: Earn Money
Once your blog is getting a steady flow of traffic from google searches, you will be in a position to monetize it using affiliate programs.
The whole purpose of researching your niche, setting up your blog and driving visitors to it, using well researched and written posts is to earn money from it.
The initial work of selecting a profitable niche and writing good post to drive in a large number of visitors to your blog has to be done before you see any substantial income.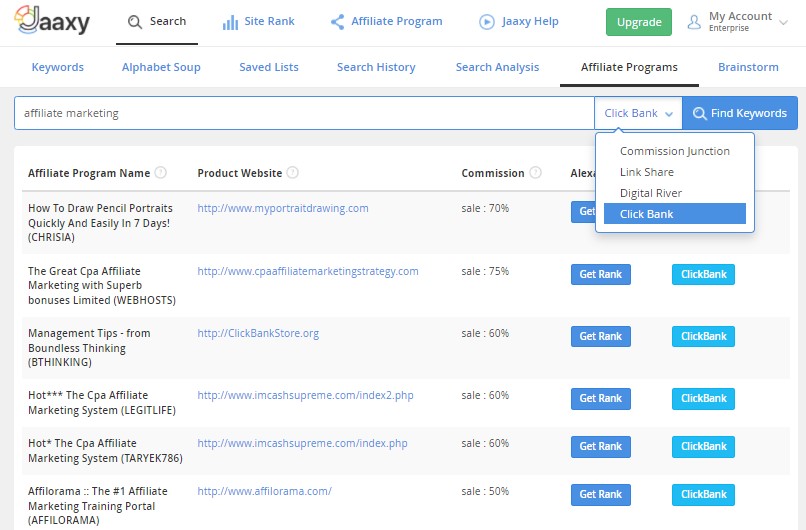 Once you are getting a minimum of 10,000 unique visitors to your blog every month, you will be able to monetize it using affiliate programs.
You can search for affiliate programs using Jaaxy and other online sources. There is extensive training on selecting suitable affiliate programs to monetize your blog on Wealth Affiliate.
Some of the affiliate programs can pay up to 75% commission, depending on your selected niche. Digital products and services can pay a higher commission percentage as there is no physical deliver involved.
Wealthy Affiliate pays 50% commission via their affiliate program. This is one of the most lucrative affiliate programs on the internet and has been going strong since 2005.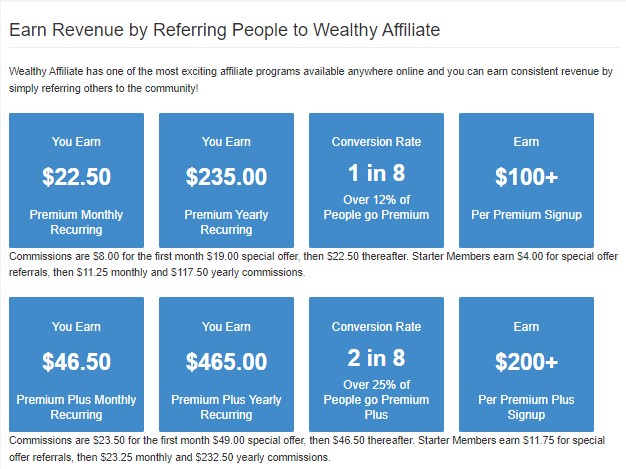 You can get all the training and tools required to create a niche blog that earns you affiliate commissions at Wealthy Affiliate. You can also take part in Wealth Affiliate's affiliate program to create another passive income stream.
Your niche blog can easily be monetized using affiliate links. The income generated will depend on the niche you have selected and the traffic coming into your blog.
Once your blog is earning you a steady affiliate commission every month, you can maintain it by tweaking your blog post and adding a few occasional posts.
You can create a number of niche blogs to earn you multiple streams of income. Once you have a steady monthly income of over $10,000 you will be in a position to outsource the blogging work.
Creating a substantial monthly passive income from niche blogs can take time and effort. If you are willing to put in the time and effort at the initial stage, it will all become relatively passive later on.
It may take 12 to 24 months to start earning a substantial income from your niche blogs. I have set a goal of earning over $5,000 monthly within 24 months.
This is a realistic goal, as many member of Wealthy Affiliate have accomplished this already. It is just a matter of staying focused and consistent with my blogging.