How To Earn Passive Income Online
The internet offers the opportunity for anyone with access to it to create automated streams of income on a global scale. It takes time and effort to build up these passive income streams, but it is absolutely possible to do it.
I know many people are interested in learning how to earn passive income online. There are many opportunities advertised online, but only a small number of these opportunities will enable you to build up a passive income.
In this post I will reveal the best ways of creating passive income streams using the internet. These methods have enable many people worldwide to build up monthly passive income streams.
Blogging To Create Passive Income
Blogging has been around since 1994, but the monetization element came with the launch of AdSense, WordPress and TypePad in 2003.
Amazon launched it's affiliate program called Amazon Associates in 1996. Only a select number of people could cash in on this lucrative opportunity.
Back in 1996, you had to be proficient in building websites using raw HTML. Designing websites became slightly easier after the launch of Dreamweaver and other web design packages in 1997. Still these tools were limited to people within the IT industry.
The launch of WordPress in 2003 was a game changer, it made blogging accessible for the masses. There were many blogs created after 2003 and monetized using affiliate marketing and also Google's Adsense program.
The blog creation process still required quiet a lot of knowledge. The steps of domain registration, web hosting and WordPress software installation & configuration looked like a major hurdle for the newbie.
In 2005 Wealthy Affiliate was launched to make the process of blogging and blog monetization simpler and accessible to the masses.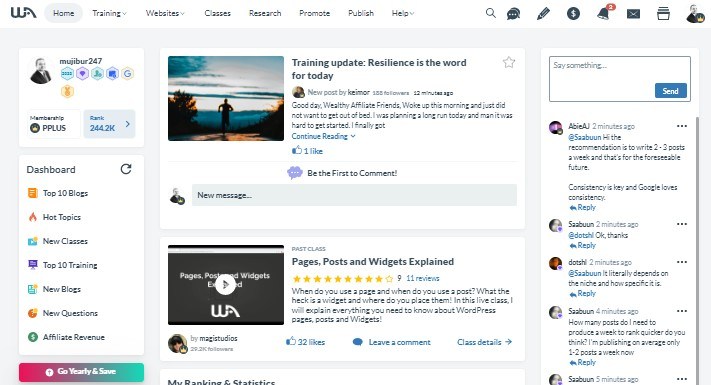 Wealthy Affiliate is still going strong to this day, and it will stay around for some time. Many people have built niche blogs and monetized them using affiliate marketing. There are many niche blogs that are monetized purely by using Amazon's Associate Program.
There are thousands of affiliate programs available now. You will be able to monetize blogs in various niches by following the training offered at Wealthy Affiliate.
I am currently building this blog on the Wealthy Affiliate platform, whilst going through the training. I have been blogging for just over two months now and things are looking very optimistic.
Earn Passive Income From YouTube
The YouTube video platform has been running since February 2005, the monetization via Adsense was introduced back in August 2006 after the site was acquired by Google.
Many people have become celebrities using their YouTube Channel. Mr Beast is currently earning over $50 million yearly as a result of his YouTube Channel.
Most of the highest earners on YouTube, earning in the millions of dollars yearly category generate most of their revenue from sponsorship deals.
There are many YouTubers earning hundreds of thousands of dollars yearly, just from AdSense adverts on their videos.
You can also monetize your YouTube channel by placing affiliate links in the description of your videos. The commissions generated from these links will depend on the relevancy to the video and the number of views the video gets.
Some YouTube videos get millions of views and there are hundreds of videos on some channels. Some of the larger channels get billions of videos views every year.
Anyone can set up a YouTube channel, but it takes time and effort to get it monetized and earning a substantial amount of money.
You need to have over 4,000 hours of watch time and over 1,000 subscribers within a 356 days period to qualify for monetization via AdSense. This can take around 12 to 24 months, depending on the quality of your videos and the demand for them.
You can start off my placing affiliate links in the description of your videos to help you earn some commissions before your channel is eligible for monetization via AdSense.
I have started a YouTube Channel, I don't know how long it will take to get it monetized, as I am focusing most of my time on blogging. I am adding a few videos occasionally to inform people about my internet marketing activities.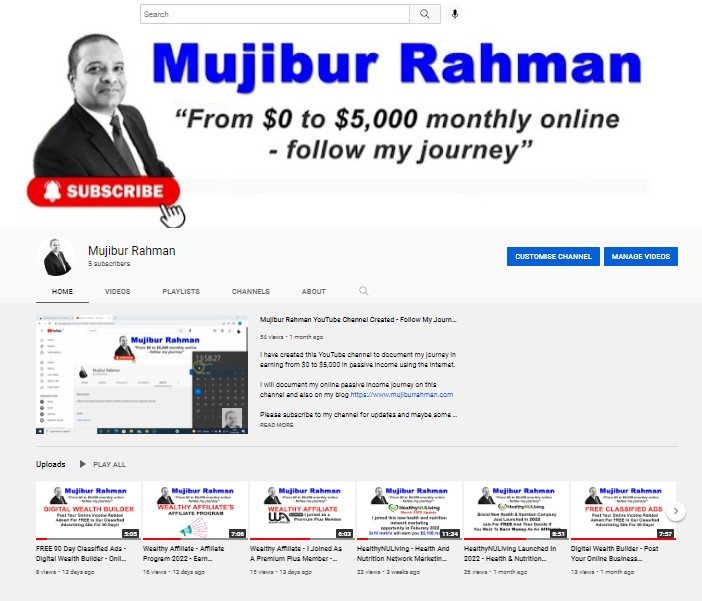 Subscribe to my YouTube channel for updates on my progress towards earning over $5,000 monthly using the internet.
It used to be relatively easy to get your YouTube channel monetized in the early days. There is a lot of competition now, you will need to create high quality content.
Passive Income From Print On Demand
Print on demand can also become a lucrative source of passive income. I joined the Merch by Amazon program a couple of years ago. I uploaded a few T-Shirt designs and have not done much with it recently.
I still get commission of around $50 monthly from work that was done many months ago. The Merch by Amazon supply chain was massively disrupted during the global lock down resulting from the Covid-19 pandemic.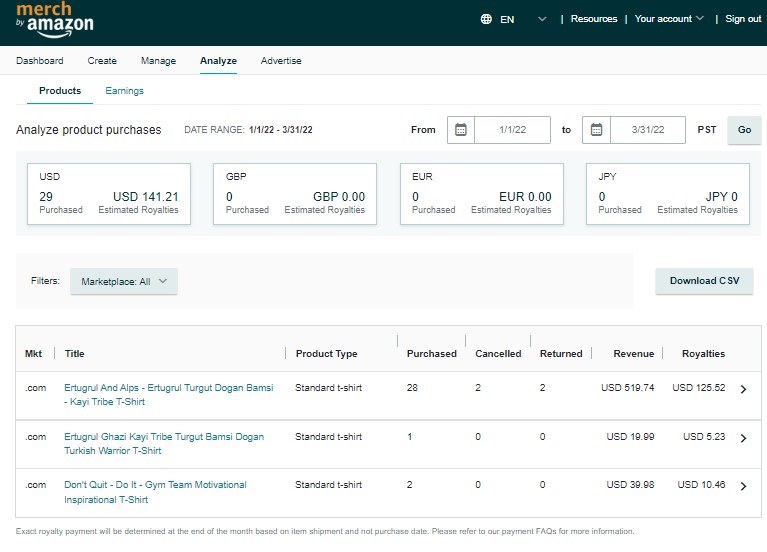 It was difficult for Amazon to get the blank T-Shirts and other merchandise in, and it was also difficult to send out the products. The work force required to do the printing was also difficult to get hold of during the lock downs.
The disruption in the print on demand business had made me neglect it. The sales are now picking up slowly and I will start looking at creating and uploading more T-Shirt designs for summer.
Just before the pandemic kicked in, some print on demand entrepreneurs were earning commissions of over $10,000 monthly. Some of them had created and uploaded thousands of designs and the sales generated were relatively passive.
There are many print on demand sites like RedBubble, Teespring, Spreadshirt…. I have been using Merch by Amazon as the products get listed on Amazon sites worldwide for free. I just create the design and upload it, once it is approved, it gets listed on Amazon, which is one of the largest online market places.
I will explore some of the other print on demand sites in the near future. My initial goal is to get a few more T-Shirt designs loaded onto Merch by Amazon.
---
This post may contain affiliate links, which means I may receive a small commission at no extra cost to you. I only share products and services that may offer you real value. Disclosure here.