HealthyNULiving – Network Marketing 2022
I got started with HealthyNULiving in February 2022. This is a new health and nutrition supplements company that is using the network marketing model to expand its business.
Exponential Worldwide Growth
You can position yourself to benefit from the exponential worldwide growth HealthyNULiving is going to achieve within the next 5 years.
Many people will reach financial freedom using this opportunity within the next 5 years. You are looking at this opportunity at an early stage that will enable you to benefit from the growth that is about to take place worldwide.

The Products
There are currently 38 products offered by HealthyNULiving. These products have testimonials supporting their effectiveness on the site by people that have purchased and used them. The products are also priced reasonably unlike other network marketing companies.
Anyone can join and benefit from the products without having to pay a premium price.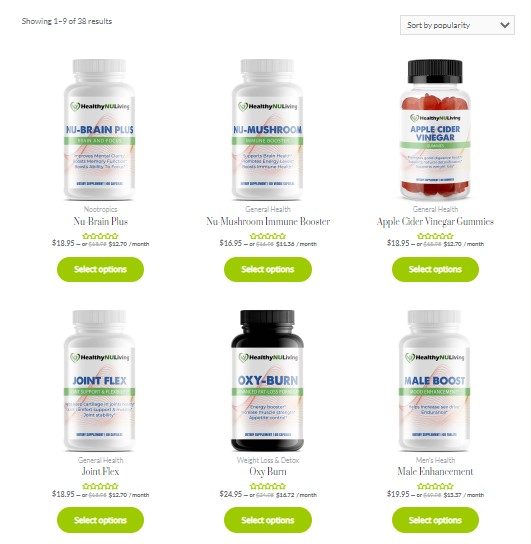 The Affiliate Program
There are various ways to earn commission using HealthyNULiving, including matching bonuses. What really excites me is the 2×10 matrix compensation plan that pays monthly.
Here is what a complete matrix will look like:
Level 1: 2 members x $1 = $2
Level 2: 4 members x $1 = $4
Level 3: 8 members x $1 = $8
Level 4: 16 members x $3 = $48
Level 5: 32 members x $1 = $32
Level 6: 64 members x $1 = $64
Level 7: 128 members x $1 = $128
Level 8: 256 members x $1 = $256
Level 9: 512 members x $1 = $512
Level 10: 1024 members x $4 = $4096
A complete 2×10 matrix will pay you $5,105 monthly in commissions.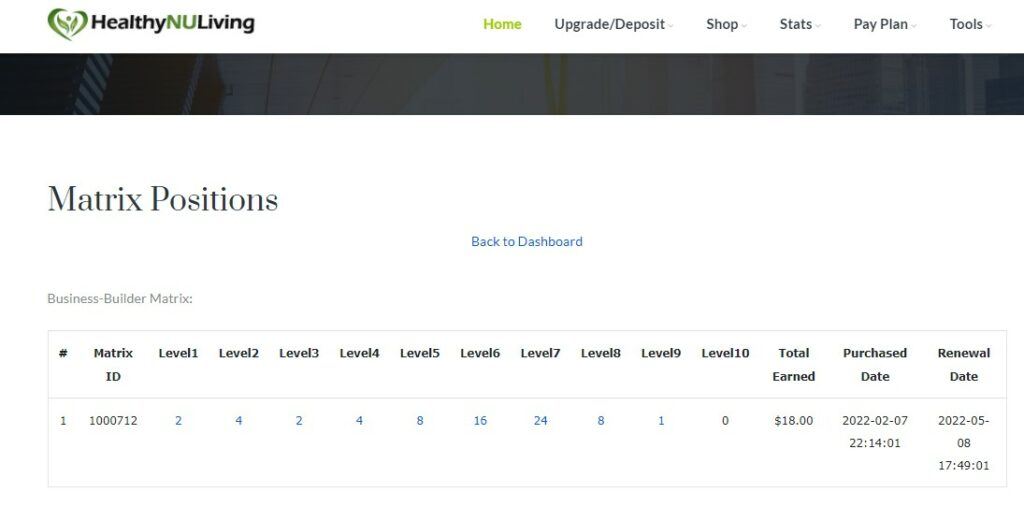 I have earned $18.00 from the matrix so far. The first months money is used to pay various fast start bonuses, these are one off commissions. The second months money is used to pay the 2×10 matrix commissions, these will be passive earnings as long as the member stays active.
I am currently on track to earn $18.00 monthly, this will increase as the matrix starts to fill up. My goal is to get to $5,150 monthly in commissions from this matrix.
Any earnings show and examples are not representation of the income you will earn. Your earnings will depend on your own marketing activity, your uplines marketing activity and your downlines marketing activity.
I have joined one of the fastest growing teams in HealthyNULiving, there are many new members flowing into my 2×10 matrix.

The Dream Lifestyle
My dream is to reach monthly commission earnings of $5,150 within 24 months. This will enable me to quit my current employment and focus on creating financial freedom using the internet.
Currently I don't have much time to build up my online income streams, I am using leverage to help me reach my goal of earning over $5,000 monthly in passive income. Once I have reached this goal, I will have time to take my online income to the next level.
I am currently working 12 hour shifts as a corporate security officer. My goal is to get out of the trading time for money trap. I am using various online income opportunities to do this, HealthyNULiving is one of them.
It's hard to focus on your dreams when you are living a nightmare lifestyle. I have made a decision to focus on the possibilities and not on the current reality.
$18.00 monthly in passive income may not seem like much, but it has proved to me that it is possible to create passive income using HealthyNULiving.

I have big dreams that I would like to accomplish using the the income potential offered by the internet. The first stage of this plan is getting to earning over $5,000 monthly in passive income.
Work With Me In 2022
I invite you to work with me in 2022 and create a monthly passive income that will enable you to leave your current employment.
Join HealthyNULiving and work with me to build your own monthly passive income stream. I will be there to support you along with my upline team members. We are one of the fastest growing teams in HealthyNULiving!
This one online income stream can earn you a passive income of $5,150 monthly. If you decide to put in additional effort, you will be able to earn much more.
With the current state of the world, most people are looking for good health and nutritional supplements and also ways to boost their earnings.
Many people are working long hours and multiple jobs to earn just about enough to pay their monthly expenses. The cost of living has increased drastically, but the wages have remained the same.
If you are looking for a way out, get started with HealthyNULiving and let's work together to build a brighter future for ourselves and our families.
Many people complain about their struggles, but are not willing to do anything about it. Let me tell you in simple words… "Nobody cares about your struggles, not your friends, not your family, and definitely not the government! You need to find the solution yourself!"
Sometimes in life you need to take risks. Most people would gamble away thousands of dollars, but would not think about building an online business.
How Much Will It Cost To Get Started?
The real question you should be asking is "How Much Can I Earn From This?". It is free to join HealthyNULiving as a customer. You will need to upgrade to an affiliate member to earn from the pay plan. It costs $30 monthly to become an affiliate member, this is approximately $1 per day.
Some people spend over $100 monthly on lottery tickets, cigarettes and alcoholic drinks and complain that they are struggling to make ends meet.
If you are working a full-time job and cannot afford $30 monthly on an opportunity that can earn you $5,150 monthly in passive income, you need to take a look at you priorities.
How much money are you spending on non-essential items?
I'm sure you can cutback on some of these to find the $30 monthly to start your own online business. If you are ready to work with me in 2022, join HealthyNULiving now.
---
This post may contain affiliate links, which means I may receive a small commission at no extra cost to you. I only share products and services that may offer you real value. Disclosure here.