3 Step Wealth Builder – Feb 2022 Update
The 3 Step Wealth Builder transformed from an idea into reality on the 16th of January 2022. The system has been live for just over a month.
I wanted to create an online marketing system that could be used by anyone starting out on their online income generation journey to build up a monthly passive income of around $500 to $1,000 rapidly. This monthly income could then be used to fund and build other online income streams.
There are hundreds of online income opportunities that promise a lot and deliver next to nothing. I have decide to use low-cost online income opportunities that have been around for a long time. The monthly passive income created using these opportunities will be long lasting.
The 3 Step Wealth Builder marketing system has been designed with simplicity and duplication in mind. It is easy to use and thus enables duplication to take place rapidly. Every person that joins will find it easy to set up the system, the people they refer to the system will also find it easy to understand and set up…. creating easy duplication.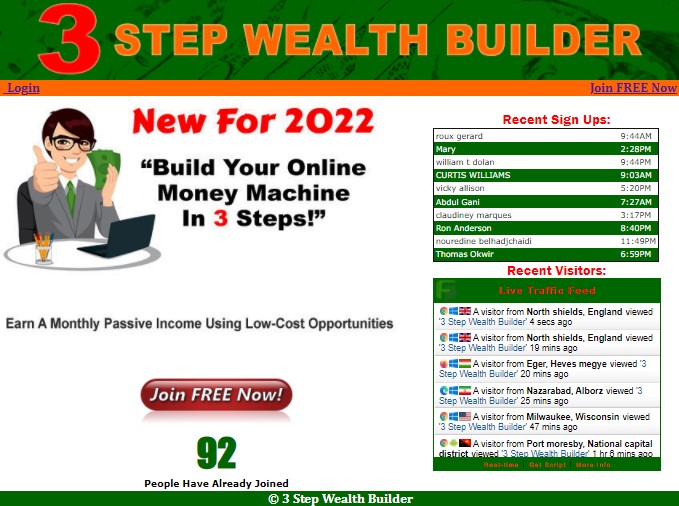 92 people have already joined the system. I know that only a small number of them will do anything with it, this is just human nature. I small number will join the opportunities, set up the system and start marketing it.
The small number who are marketing the system may need to refer over 100 people to find the small number that will duplicate their efforts. This is how networks are built, the majority will not create any duplication, the network and duplication will be created by a small number of people.
The 3 Step Wealth Builder system is designed to build a monthly passive income using multi-level income opportunities. Some of the programs pay commissions on a multi-level matrix structure.
I grew two online network marketing companies using just marketing and online systems. I did not get involved in chasing prospects. I sent a massive amount of highly targeted traffic to my referral link for the online marketing systems that I was using.
I managed to create a monthly passive income of over $8,000 from these online marketing companies. I did not get involved in convincing anyone to join, it was all done online via videos and automated email follow up messages.
I have built up substantial networks in the past, I will do it again. I will not chase prospects, as I am only looking for people who have already made a decision to build an online passive income. My job is not to convince them, it is to show the opportunities available and how they work.
I have started getting people joining 3 Step Wealth Builder using my referral link daily. Most of the people that have joined have been referred by me. Duplication is taking place slowly, I may have to refer over 200 people to find the 4 to 5 member who will duplicate my efforts.
The daily sign ups prove that the system is working and people are wiling to join. After joining only a few are taking action in setting up the system and marketing it.
There are millions of people worldwide that are affected by the "something for nothing" bug. They only guaranteed route to success is "action". If the action you are taking is not producing the desired result, change the action.
I will let you in on a secret….
If you can become a highly skilled internet marketer, you will make money online. You can make money using affiliate marketing, network marketing and digital marketing. You just need to get good at the marketing part!
There are a lot of people in the world who continuously talk about doing this and that to become super wealthy, the only people who become wealthy are the ones willing to take action and believe in their ability 100%.
If you have an idea that you think can make you super wealthy, make a plan and take action immediately. Don't let your idea go to the grave with you, because you never gave it the opportunity to manifest itself into this world.
I have many ideas that I need to start working on, but they require a source of passive income to enable me to work on them. The 3 Step Wealth Builder will enable me to create a monthly passive income that will help me fund my online ventures.
During the launch of the 3 Step Wealth Builder on the 16th of January 2022, I had some doubt in my mind as to how this system will build up, I did not know if the duplication will start to take place.
After, just over a month, I have developed a strong belief that the system will be used by thousands of people worldwide within 12 months.
I believe that there will be over 100 sign ups by the end of February 2022.