27th November 2022 – The Journey Begins
I am writing this blog post on Sunday 27th November 2022, this will be a date to remember for me. I have decided to take action towards creating time freedom along with financial freedom.
Currently I am working as a corporate security officer. I work night-shift that are 12 hours long, this leaves me with little time to do anything constructive with my life. I work approximately 60 hours weekly to enable me to meet my monthly living expenses.
Today I have made a decision to free myself from this mind numbing, ambition killing employment. I had been working these crazy hours even during the pandemic, whilst many people claimed furlough payments from home.
I cannot see anything improving within this employment and I am not interested in climbing the promotion ladder to hit my head on the ceiling or fall off the ladder.
I need to do something different to get out of this mess that I have accepted to become a resident of for way too long.
You Need To Know What You Want
If you don't know what you truly want, you will settle for anything. I know, I want to build up a monthly income of over $5,000 to enable me to leave my current job. I will build up this monthly income using the internet.
I want to get out of working night shifts, especially 12 hour long shifts. I don't want to trade my time for money anymore. I want to get paid for proving value to the masses.
It All Starts With Making A Decision
I know that I cannot make any progress by focusing on my current situation. I have made a decision to focus on what I truly desire.
I know that I don't have much spare time to focus on my dreams, but I cannot afford to continue living this nightmare.
My current job just about earns me enough to meet my monthly expenses. I have been working this job for around 6 years, the comfort-zone has kept me glued to it.
It is now time to move on and create the lifestyle that I truly desire. I know that I have the ability to create a much better lifestyle for myself.
Believe In Yourself
The famous quote by Henry Ford "Whether you think you can, or you think you can't – you're right." sums it up perfectly.
I have full faith that I will be able to create a monthly income of over $5,000 to enable me to quit my current employment.
Create A Plan Of Action
I have decided to build up a monthly passive income of over $5,000 by posting article on this blog and getting them monetized using Google's Adsense program.
I have set up this blog using Wealthy Affiliate. I am following their training program to get my blog monetized using advertising revenue and affiliate commissions.
I will write 60 blog posts to get indexed on Google and build up traffic to this blog. Once there is a steady stream of visitors to my blog, I will apply to get accepted for Google's Adsense program.
I have set a goal of getting monetized via adsense within approximately 2 months ( 1st March 2023). I will write a blog post everyday for the first 60 days.
Stay Consistent
I will stay consistent with my blogging. I know there will be days that I may not feel like writing anything, these will be the day that I will need to take action.
I will need to breakdown the attraction force of my comfort-zone to enable me to stay on track towards achieving my goals.
I will encounter many obstacles on this journey, but I know that I am determined enough to continue the journey until I reach my goal of earning over $5,000 monthly in passive income.
Delayed Gratification
I will need to transform my mindset towards delayed gratification. Instant gratification results in many losses and gambles.
I need to stick with one thing and see it to the end. I have decided to work on building this blog and getting it monetized using adsense.
I have given myself 24 months to reach my goal of earning over $5,000 monthly from a combination of adsense earnings and affiliate commissions.
The wealthiest people in the world have created their fortunes using delayed gratification. They have created a vision of the lifestyle they desire and worked out the amount of money they need to make this possible.
They have made a decision to acquire this sum of money and devised a plan to make it possible. They worked on the plan until they reached their desired goal.
Why This Domain
I could have started by creating a niche blog and work on getting it monetized. This would have been the easier option, but I have decided to go with my domain MujiburRahman.com, as it is my name. I have had it for a while now.
I have not decide on blogging about a specific niche yet. This blog allows me the freedom to blog about anything that I choose. It will allow me to express my thoughts, ideas and also to write article on things that interest me.
I know that it will take some time for the posts to get indexed as they will not be specific to a niche. I have taken on this challenge, if I can get this blog monetized and earning me over $5,000 monthly in passive income, I will be able to do it with any niche in the future!
This is a crazy challenge and I have accepted it to build up my blogging skills. This challenge will also allow me to check out various niches and find out what niches are worth blogging about.
I will keep my blog post over 1,000 words and write a minimum of 1 blog post daily. I should have over 60 post online within 2 months.
I had some post on this site previously, but I have deleted them and made a fresh start. This is my first blog post for this challenge.
My Stats
I have set up Google Analytics on this site to monitor and get statistics for the number of visitors.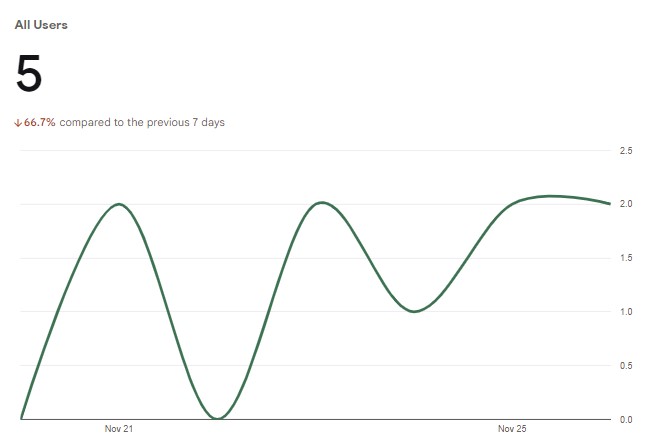 I have had 5 users to the site within the last 7 days. This figure will start to increase as I post more content and it starts to get indexed by Google.
Once I have over 100 visitors coming into my site daily, I will apply to get monetized via Adsense. I will keep you updated on my progress. Share the posts on my blog with others using the social sharing buttons.
As the Chinese philosopher Lao Tzu said "A journey of a thousand miles begins with a single step". I have started my journey with this first blog post.
I know there will be some spelling and grammatical mistakes in my posts, as I am writing them on the fly. I don't have the time to check through the posts or structure them thoroughly.
I will be going through the posts in the future, but for now I just want to convey my thoughts, ideas and pass on the article to you.
---
---