I am currently working 60 hours weekly as a corporate security officer. My shifts are 12 hours long, starting at 7:00 pm and ending at 7:00 am. The work is not hard, but the hours are extremely long.
I work 7 shifts in a row, leaving me hardly any free time at all. This is a perfect example of trading time for money. There is hardly any professional skill involved in this job, you get paid as long as you show up and for the hours you work.
This job is enabling me to pay my monthly expenses. It is keeping me just above water, there is no future in this type of job. I am just doing it to pay the monthly bills.
I've working continuously through two lockdowns, whilst the majority have been handed out furlough money. This furlough money is now being recovered from my salary, whilst I worked throughout the covid-19 lockdowns, risking my life as well as my family's. There has been no compensation from the our employers.
All we heard from them was "You're lucky to have a job"… I'm thinking "I'm luck to be alive after doing this job".
New Year's Resolution
The rich have got richer and the poor have got even poorer during the past two years. On the 1st of January 2022, I sat down with a piece of paper and decided to make some changes to my life. Most people make new year's resolutions on the 31st of December, but I decided to break this tradition, as most of my new year's had failed in the past.
I had a gut feeling that this time it was going to be different, I had been pushed to the limit, and something had to be done about it.
I was going to leave the security sector, and I was not going to find another job. I have had enough of working for an employer. I was going to take my financial future into my own hands, I was going to transform my lifestyle.
I decided to build a passive income using the internet that will enable me to quit my current employment. I had to earn a minimum of $5,000 (£3,800) monthly to hand in my notice at work.
My Blogging Journey Starts
During the first couple of weeks of January 2022, I started to research various ways of earning passive income using the internet. I came across many get rich quick scams, if it sounded too good to be true, chances are that it was.
I decided to go with the online income model of building a niche blog and monetizing it using affiliate marketing and advertising.
On the 25th of January 2022, I launched this blog. I did not know how I was going to monetize this blog and exactly what I had to do. I still wrote down my goal of earning over $5,000 monthly in passive income using the internet. I set a time limit of 24 months to achieve this goal.
This blog was going to become the focal point in enabling me to achieve this monthly income target. I started blogging about the things that I was doing to try and build up a passive income online. I did not really know which affiliate programs to start promoting.
I had hoped to start generating some income from advertising on the blog using Google's Adsense program. I applied for the site to be accepted by Adsense, but the traffic to the site was too low.
Wealthy Affiliate To The Rescue
It seemed like I was about to hit a road block on my journey towards creating passive income using the internet. I felt like giving up, but I knew that I could not give up. There was no way I was going to give up on my dream of achieving freedom.
I started to look for a plan that would enable me to earn a monthly passive income of over $5,000 using the internet within 24 months.
After a lot of research into affiliate marketing and blogging courses, I came to the conclusion that Wealthy Affiliate was the one for me.
I was going to follow the blueprint laid out by Wealthy Affiliate to enable me to monetize my blog using affiliate marketing.
I moved my blog over to the hosting provided by Wealth Affiliate and started going through the training offered on the site. The web hosting provide by Wealth Affiliate is on super fast amazon servers.
There are many bloggers on the Wealthy Affiliate community who are earning over $5,000 monthly from their niche blogs. I have started to connect with others who have achieved what I want to achieve. I am learning from them and implementing this knowledge.
I have full faith that I will now be able to reach my goal of earning over $5,000 monthly in passive income using the internet within 24 months. The support and training offered at Wealthy Affiliate has reinforced by belief in achieving this goal.
24 Months Seems Like A Long Time
Most people have been infected with the get rich quick bug that has been spreading rapidly on the internet. This is responsible for the negative reputation associated with many online income programs.
There are a large number of online income programs offering to transform any newbie into a multi-millionaire within a few days. People with the instant gratification mindset fall for these get rich quick schemes. These are the people who have a gambling mindset, they are attracted by long-shot odds offering high returns.
A true entrepreneur will always carry out the necessary research, before diving into any business or income offering.
I would suggest that you Try Wealthy Affiliate Free, No Risk, and No Credit Card Required.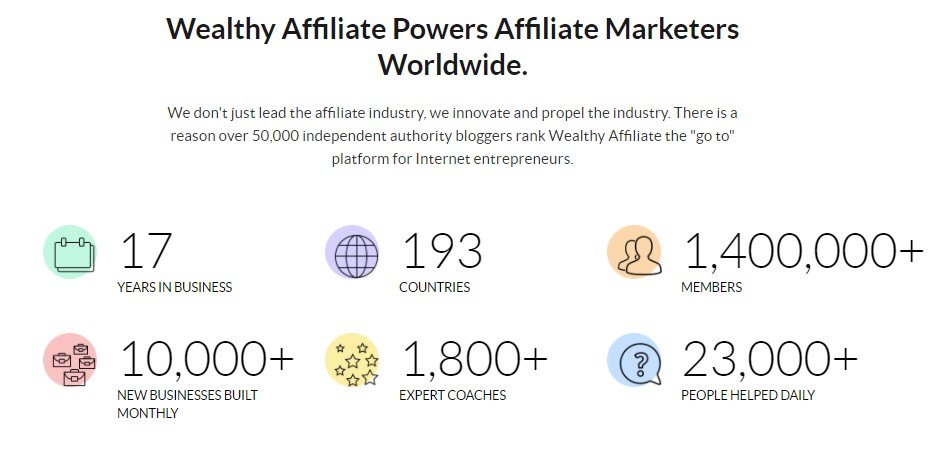 I would suggest that you commit 24 months to go through and apply the training offered at Wealthy Affiliate to enable you to build up a monthly income to replace the income from your current employment.
In my opinion 24 months is not a long time to invest in building up a monthly income using the internet that will enable you to leave your job and free up your time.
The initial 24 months will be really hard work, but it will become much easier after that. Just imagine being able to quit your current employment after 24 months. This can actually become your reality with the help from Wealthy Affiliate.
Are You A Spectator Or A Participant?
Many people will read this blog post, without doing anything. They will say that they want to leave their current job, but there is no way of doing this.
The opportunity to make this happen has been presented right in front of you, it is up to you to decide if you are going to remain a spectator or become a participant!
Only a small number of people take the opportunity to create real freedom in their lives, the vast majority will remain glued to the jobs that they most likely hate.
I used to hear the conversations by work colleagues about how they dislike the job, the work conditions, the pay rate…. the list just goes on and on.
I have decided to do something about it. I am not going to carry on complaining about something that I have the ability to change. I don't like the job so I have decided to create a passive income that will enable me to quit this job. I'm not going to concern myself with broken promises of pay rises and better work conditions, as I know they will not happen.
I am going to take control of my own financial destiny, I am going to dictate my own salary. I don't want to answer to anyone.
I stay out of conversations related to pay and work conditions. These conversations are started by employees that have been in the same job for over 10 years, they will become part of the furniture before making a decision to make a change to their lives.
If anyone has the entrepreneurial spirt within them, I am willing to listen to them and exchange ideas. I will not listen to time wasters and people with no ambition in their lives.
I value my time immensely and will not waste it on idle conversations with people who are infected with a negative mindset.
Some people may think what I am doing is a little crazy, as it does not conform to their expectations of what is normal.
I am happy to trade 24 months of hard work in return for time freedom and happiness. Once I have created a passive income to cover my monthly expenses, the fun and games will start.
I will be able to approach business from a position of power, as I will not be worrying about where the money to cover my monthly expenses will be coming from.
---
This post may contain affiliate links, which means I may receive a small commission at no extra cost to you. I only share products and services that may offer you real value. Disclosure here.